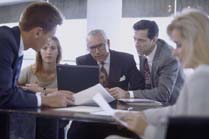 Selecting Your Search Firm
Finding the right search firm is an important decision. You deserve to be represented by a firm who is totally committed to quality and to your company's best interest.

A big name firm in a metropolitan area does not equal better service! McNamara Search is small enough to give you personalized, customized, and responsive service, yet large enough to handle your recruitment needs with expertise and efficiency.

As you make your choice, ask these questions.

What proportion of the search firm's business comes from repeat business and referrals? (A quality search firm can validate their commitment to excellence by having long-term partnerships with established clients and a stream of referrals from satisfied customers.)

Does the search firm associate "get behind the resume" to conduct in-depth interviews and assessments? (Do not pay a fee for having a resume forwarded for you to do all the work!)

Does the search firm guarantee exclusivity? Or do they present the same candidates simultaneously to other clients?

Will this search firm represent your company with expert, professional practices?

Will this firm give you the time, effort, and priority you require in order to meet company objectives?

Does this search firm use standardized processes and methods that ensure success?

Does this search firm provide a written guarantee?

Will the search firm provide references from credible clients and candidates?

Is this firm a member of the Better Business Bureau, Chamber of Commerce, and other organizations dedicated to ethical practices and quality services?

| | | |
| --- | --- | --- |
| | | |
McNamara Search Associates, Inc. | For Clients | For Candidates | Contact Us
Links | Feedback | Online Catalog